Ultra Reliable and Low Latency Communications
We can say that the chapters in the story of 5G, are its use cases, and what a wild adventure they've turned out to be. From out in the winter sport hinterlands of Norway to literally outer space aboard the ISS these tales have been told one dedicated microservice use case to another, delivering reliably perfect synchronous connectivity. The silver bullet for countless applications that couldn't possibly have been delivered in previous generations. And if my forward-looking telecom eyes, that like to think they can see for miles on a cloudy, Helsinki day, I would say that alone, the sheer volume of 5G private networks have assembled a middle majority to strike the opening bell of 6G, setting the new bar for a communication delay. But perhaps that was just the opening act.
Needs help? Read What is 5G URLLC.
Or read about URLLC FAQs.
What is most exciting about today's chapter is that unlike any before it, where performance metrics for critical communications, public safety or industry 4.0 deployments have felt pretty esoteric for the average consumer, here we see something intrinsically accessible. After all what is more understandable than the requirements of spatially distributed, high performance arts like live music, where audio delay between one player and another is the difference between a great band, and |a don't quit your day job, man". But let's start here.
Would you believe that in year 2022, with all of the amazing technology we have , and particularly through the tech accelerating, woefully isolating, trials of the COVID 19 pandemic, musicians of all, may have borne some of its worst brunt. But why? Because unless they were getting their freetime sonic space chops up, they simply couldn't play together unless they were in the same dwelling. The internet simply cannot deliver the required working latency of live synchronous music performance of any kind. As a case in point, this laudable, and universally laughable workaround my musicians friends in Canada cooked up. Jamming neighbours on the same block had the bright idea of running line and mic cables between their houses for the all-important audio aspect while a delay ridden Facebook video call provided the suggestion of closer proximity. Remember, consistent, latency light audio travelling at the speed of sound over shielded cables can be handled over short distances. I'd love to see what our old landlines would have done with that payload. Probably better than the POI (Plane Old Internet).
Fast forward a year and our latest, soon-to-be-announced deployment with a major professional audio brand involving guess what? live music feeds to and from performing musicians via 5G in-ear radio monitors with our partners in 5G-RECORDS project. In the context of live music where the same nuanced performance notes sung and played are also being heavily amplified in the same space, latency is simply a showstopper. In fact, not only must working latency undetectable, in this case the tolerance is 4ms, but it also must hold fast to that delay.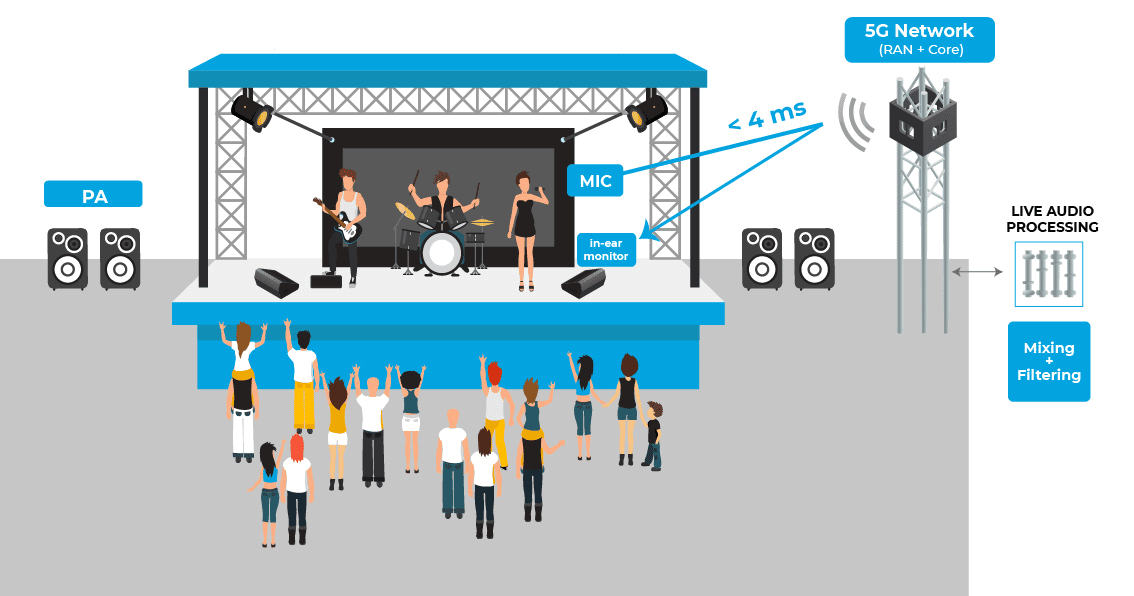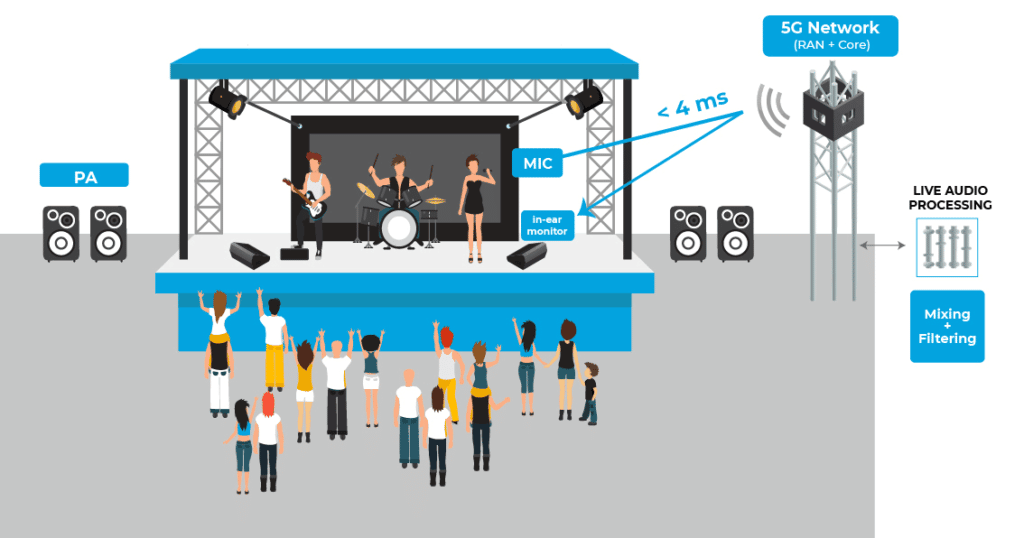 All you must to know about 5G URLLC
What is 5G URLLC?
Ultra Reliable Low Latency Communication is a concept where a 5G network is configured to deliver guaranteed fix and small delay and capacity. This is a big challenge because the capacity of the mobile network cell is not fixed but it depends on the many characteristics. These cases uses UDP traffic, specific TDD frame structure and delay optimized resource blocks.
Why is it used to provide wireless connectivity for microphones and in-ear monitors in live events?
Traditionally there has been a proprietary radio interface used to connect wireless microphones and in-ear monitors. Today and especially in the future frequency utilization has to increase and there is a tendency to move away from the application specific frequencies. Another advantage 5G offers is the economy of scale, 5G radio components are manufactured in significantly higher volumes than any proprietary radio components.
Why 5G URLLC is better than actual live wireless microphones and in-ear monitor solutions/technology?
With 5G we can cover small areas or large areas, technology scales up and down in the number of connected devices.
Nowadays, there are any commercial product/service using this solution?
There are 5G microphones and in-ear monitors but their delay is not yet on the level to reach performing live on the stages. In this use case the delay needs to be <4ms mouth to ear.
FAQs about 5G URLLC
URLLC Top use cases on 2022:


Industrial factory automation, faster and more precious control loops.
Healthcare and telemedicine, removing wires from ultra sound sensors and other imaging devices.
AGV vehicles, increasing speed because faster emergency stop mechanism.
Virtual/Augmented Reality (VR/AR), more reliable connectivity.

Relation between eMBB, mMTC and URLLC:
eMBB is consumer technology to download good quality content especially videos. Uplink is becoming more important because of virtual meetings. eMBB is based on best effort and can use buffering to smoothen customer experience. mMTC is about having a lot of devices connected to the network and consuming very little energy. These are typically sensors that are reporting their status every now and then sending kilobytes of data.
5G URLLC vs 6G xURLLC:
6G URLLC will bring more capacity and even less delay.
5G URLLC and network slicing