Index of contents:
5G and the Construction Site of the Future
If you've never been on a construction site – perhaps only seeing them in film, on the news or along your daily commute to work – their complex choreography is something to behold. Human progress in a microcosm of carefully orchestrated activities culminating in the finished spaces of work, play and life that surround us. Though the pace of commercial construction was flat through the pandemic, the residential side boomed, easily securing its place as the world's largest industry, topping 11 Trillion USD annually. Moving at the battleship pace of 1% growth (a little more than a third of the economy in general), the industry has long been seen as a technological laggard, and one primed for new efficiencies. The pandemic only served to underscore this as supply chain issues, volatile pricing of materials and labour shortages all contributed to higher costs, shrinking margins and slower growth. Here again, the pandemic demonstrates its force as an accelerator of digital transformations already underway, or in this case, long overdue.
But what will this transformation look like? What new processes will come into play to accelerate work, make construction safer, less costly and more precise and accurate? Seen through the lens of our favourite subject, namely 5G non-public networks – a key enabler of these new and emerging capabilities – I invite you to put on your virtual hardhat and join me on an aerial tour (figure 1) of the construction site of the future, and the critical role that dedicated mobile connectivity will play in the years to come.
Let's dig in!
Improve efficiency and productivity
The High Cost of Labour

Employing 7% of the global workforce, the construction industry has an insatiable demand for skilled and highly skilled workers. In a tight labour market that shows no signs of loosening, the availability of able bodies is critical. But thinking strategically, it's as much about making project crews, from the job site, all the way up to main office purchasing, project management and finance, more efficient and productive. The two main categories of technology-enabled construction relate to:
Traditional IT – distributed access to project plans and data, etc. and
Machine and process automation.
While 5G has not been on the tips of construction company executive tongues to date, any reader of this blog and others covering the innumerable use cases of Industry 4.0 will immediately see how 5G comes nicely into play in construction.
Central role of 5G mobile networks will play
Ready? You're IT!
One of the biggest hurdles and even showstoppers for major construction projects relates to availability of data – blueprints, plans, component specs, you name it – and of course how and where that information is delivered. While communications between the planners and the doers, has been flagged industry-wide as an area in need of improvement, particularly as it relates to what data precisely the doers need, for our purposes we'll imagine that the "what" has been resolved. And now to the fun part, as to the "how" and "where" this up-to-date design data gets delivered to workers onsite and the central role 5G mobile networks will play.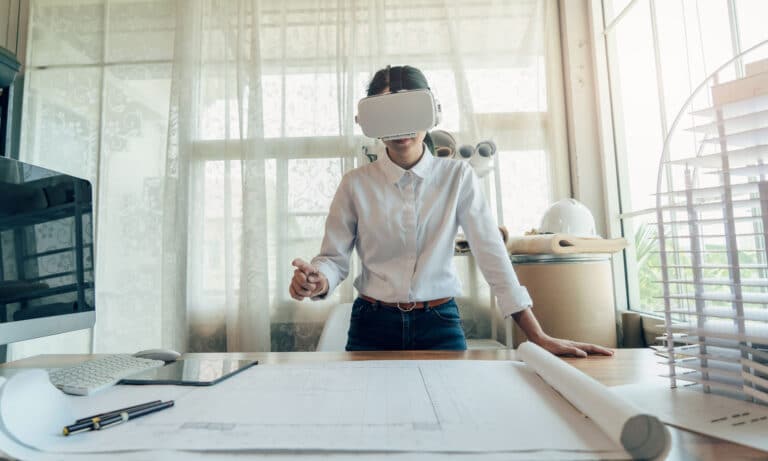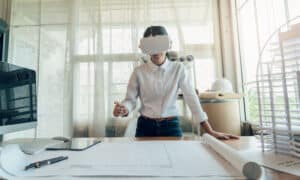 To put yourself firmly into their shoes, or better yet, their boots, imagine that not-uncommon household task of constructing a (seemingly) simple piece of IKEA furniture (read: It's never simple, at least the first time). Now imagine that with the aid of AR glasses a virtual rendering of the furniture comes into your to visual field piece by piece in real-time as you put it together, along with helpful hints to get you quickly through to the next step. In the construction site of the future, workers wearing AR headsets are aided in executing on the minutiae of an HVAC substructure, while AR/VR headset-equipped project managers and forepersons get an overview of the day's progress, with superimposed overlays on a given section of the site. With the HVAC structure in place and section plan complete and verifications made, project status can be transmitted directly to on-site Ground Control Station clients and off to the main office. Of course this kind of eMBB-enabled 3D Modelling and component-specific data is, if anything, bandwidth-intensive. The 5G private network, with its dedicated, low latency, high reliability connections make this kind of data exchange as easy and predictable as a lunch time canteen truck.
As you'll note through our look into the future of the 5G-enabled construction site, we've divided labelling in three categories (Grey, Yellow and Light Blue). These include:
Standard Service Categories (Grey), like the above mentioned eMBB (enhanced Mobile Broadband) and mMTC (massive Machine Type Control) etc.,
Use Cases (Yellow), and in the above example 3D modelling and real-time AR-assisted construction, and
various 5G Features (Light Blue), like for example Network Slicing. This 5G native technology allows dedicated network resources to be allotted to specific tasks or processes. In each of our examples all three, or more will typically come into play.
Before we move on to our next technology enablement category, Machine and Process Automation, we'll look at another area of Traditional IT critical to the streamlining of on-site/off-site orchestration, and that relates to the supply chain.
As one can imagine, the supply chain only ends once the materials have been delivered on site – not merely sitting in a local warehouse. Here real-time, data-informed communications between purchasing, dispatch, delivery logistics and site forepersons and managers is the name of the game. Needless to say, a single component or widget required for say, an HVAC structure, needs to be available on site precisely when it's needed lest that part of the project be delayed. If the widget doesn't show up, that means downtime, and time is money as the onsite HVAC specialist sits on her hands. Delays and non-deliveries need to be communicated immediately to project owners and managers so that they can be relayed to the client to adjust project pricing accordingly. On the flipside a lack of data and timely communication on these fronts can quickly run a project into the red. Therefore data-enriched communication and cloud system connectivity – the bread and butter of any data network – needs to be lightning fast, 5-NINE reliable and rock solid secure. Again 5G SA delivers on this in spades. A cloud native, private 5G core brings key feeds from the cloud to onsite users and back again across the internet with nearly the speed of fibre, but all in a highly flexible mobile system accessed by a single onsite, eNodeB mobile base station.
This kind of seamless, use case-specific communication is fundamental to cost management in an industry well-known for and plagued by runaway costs. Adding to the environment of constant change, at times chaotic, is the involvement of scores of subcontractors who must all be brought into real-time sync with the moving machine that is a modern construction site.
Machine and process automation of a construction site
No Sweat, (auto) Mate!
Next we'll look at a well established use case for private 5G, machine and process automation, and how it finds a perfect, dovetail fit in the increasingly machine-automated environment of a construction site. From excavators to tractors to onsite CNC machines, automation is either already here or coming very, very soon. Great examples of this are found at Bosch and their 5G campus at the Holzkirchen location which we'll delve more into later.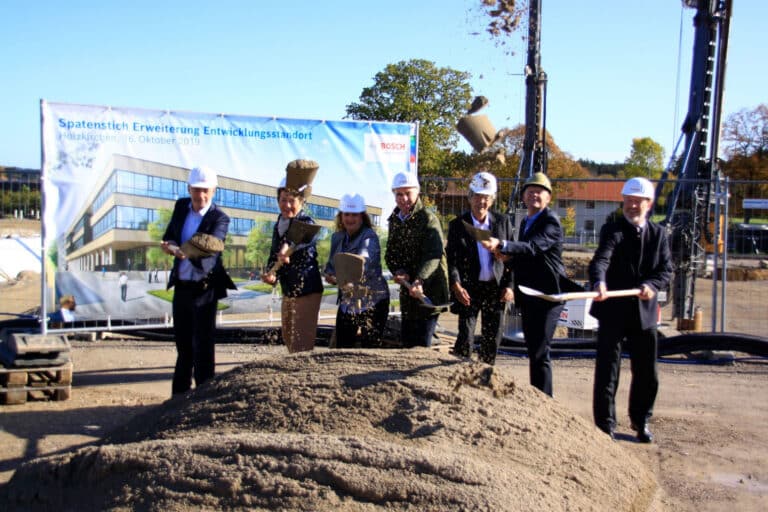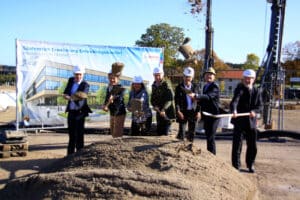 Here, as with any large, automated, and even mobile technologies, flawless URLLC (Ultra Reliable Low Latency Communications) between machine and machine, man and machine and the cloud are paramount. While it may appear to be a bit futuristic, as with automated vehicles, its delay relates much less to capability than to safety and quality. But what better place than an active construction site, already safety and quality obsessed, to test and validate these enormously helpful new efficiencies. No surprise, this also makes them a perfect match with 5G non-public networks and their ability to do, in simple terms, whatever you need them to do and do so reliably.
Automation also comes into play in helping construction sites become less wasteful and even green through recycling automation on the site, and with that the availability of key data related to recyclable material location, collection capacity and transport.
Below is a helpful rendering of the construction site of the future as introduced above. As we dive deeper into 5G-enabled, we'll address most of the Categories, Use Cases and underlying technology.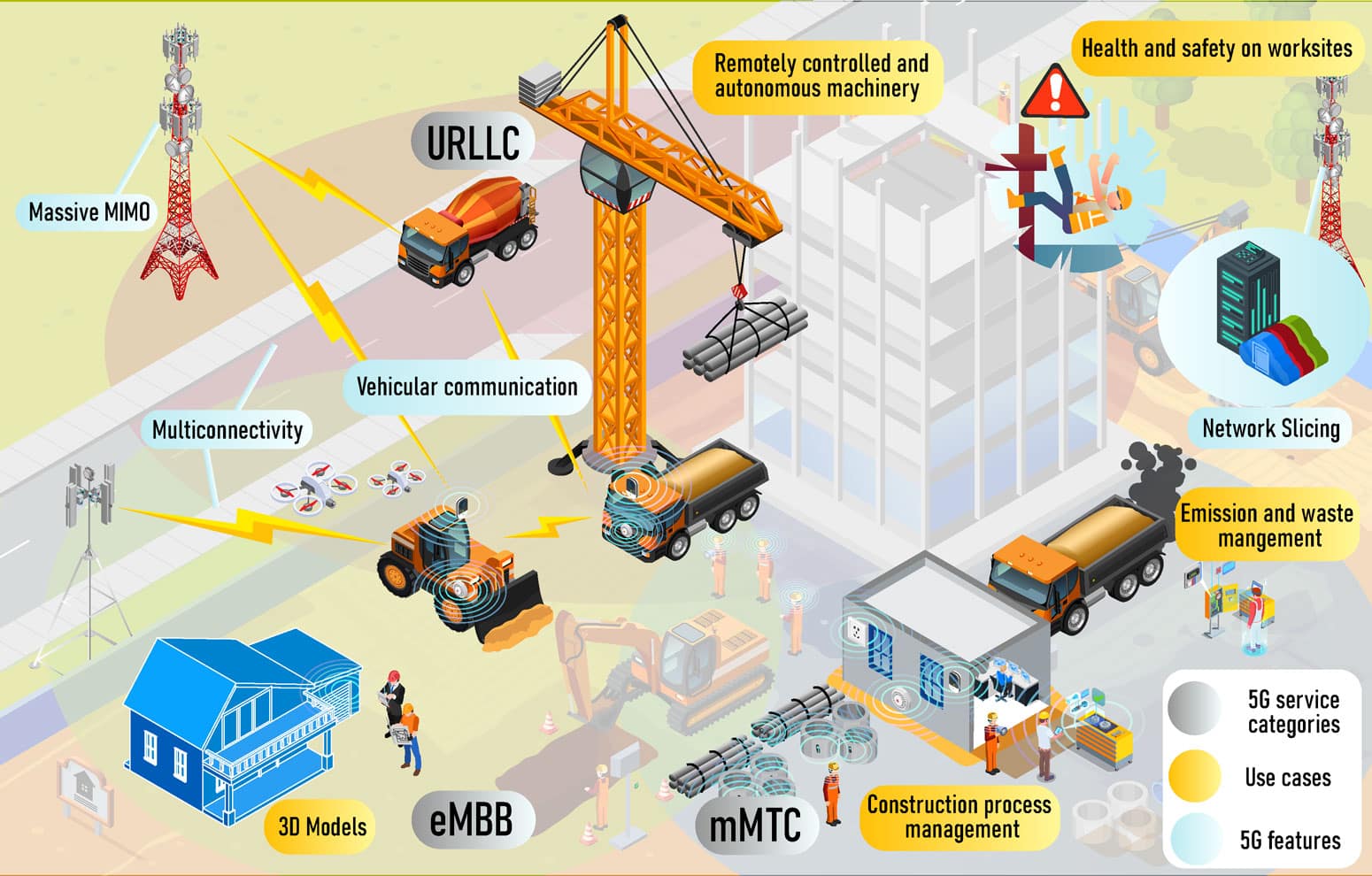 But First, a helpful chronicling of these Use Cases in point form to provide an easy reference point.
5G SA for Construction Sites – High value & Critical Use Cases in Brief
Use Case

Challenge

5G SA functionality

Up-to-date design data including 3D Model

How to deliver large files securely, fast and low cost to the construction site

Provide enhanced mobile broadband (eMBB) to the construction site with local Core for subscriber management. Capacity 50 Mbps down link.

Construction management

How to ensure and automate information flow between several organisation on cost efficient manner

Use massive Machine Type Communication (mMTC) to measure temperatures, humidity, location etc. Capacity 10 kbps uplink.

Environmental monitoring

How to automate recycling

Having image recognition SW running on MEC next to the 5G SA Core. Capacity 10 Mbps uplink.

Autonomous machinery

How to ensure safety of autonomous machines

Provide Ultra Reliable Low Latency communication (URLLC) to machines by using Network Slicing. Latency 1-10 ms

Safe and healthy

How to make sure people are following instructions

Having image recognition SW running on MEC next to the 5G SA Core. Capacity 20 Mbps uplink.
Plug & Play 5G SA – How it Works
As a single, discrete all-purpose network designed for carrier grade reliability, the 5G SA Network covers the waterfront in any application, and Construction sites in some particularly advantageous ways. Not only are they up and running in very short order, but while handling any data communication category required they can be easily fine tuned during the project.
Let's take a look at some of the core components and how they come into play:
The 5G SA network is composed of three logical parts: Radio, Transport and Core. The "Radio" is the access point for all mobile devices and user equipment and enjoys a generally easy installation on a construction site when and where it's required. Because a site will typically introduce elevated structures, the radio box can easily be affixed to these without requiring a dedicated tower. For example, if the elevator shaft of the new structure is built first, that can be used as a mounting platform.
It's important to note the generational leap that local, dedicated 5G SA cellular radio provides as compared to WiFi. Whereas WiFi systems may require up to 100 Access Points (APs) across a large construction site, they still won't guarantee flawless connectivity and performance, often plagued by dark zones between WiFi transmitters that can only reach a maximum of 50M. Time- and labour-intensive to install this array of spotty WiFi APs can be replaced by a single eNodeB radio, while delivering exponentially better performance, reliability and security.
The "Transport" layer is a simple ethernet cable providing IP connectivity and electricity for the Radio. The "Core", is a small, industry grade computer running Core Software on top of Linux OS. If, as in the IT and specifically site to office voice and data communications, a connection to the outside world is required, the Core can be connected to the internet.
It Slices, It Dices
Once up and running the 5G SA network can be fit to purpose in a number of ways, say to share network capacity between groups, users and Use Case-specific applications. This can be done easily via that 5G native killer app, Network Slicing. Network slices allow different privileges and performance profiles to be reserved and assigned to different needs. Some slices might have an internet connection, while others don't. Some may feature ultra low latency, as required for real time video and data, while others may have low capacity sensitivity while requiring "always on" reliability for local only, machine to machine communications.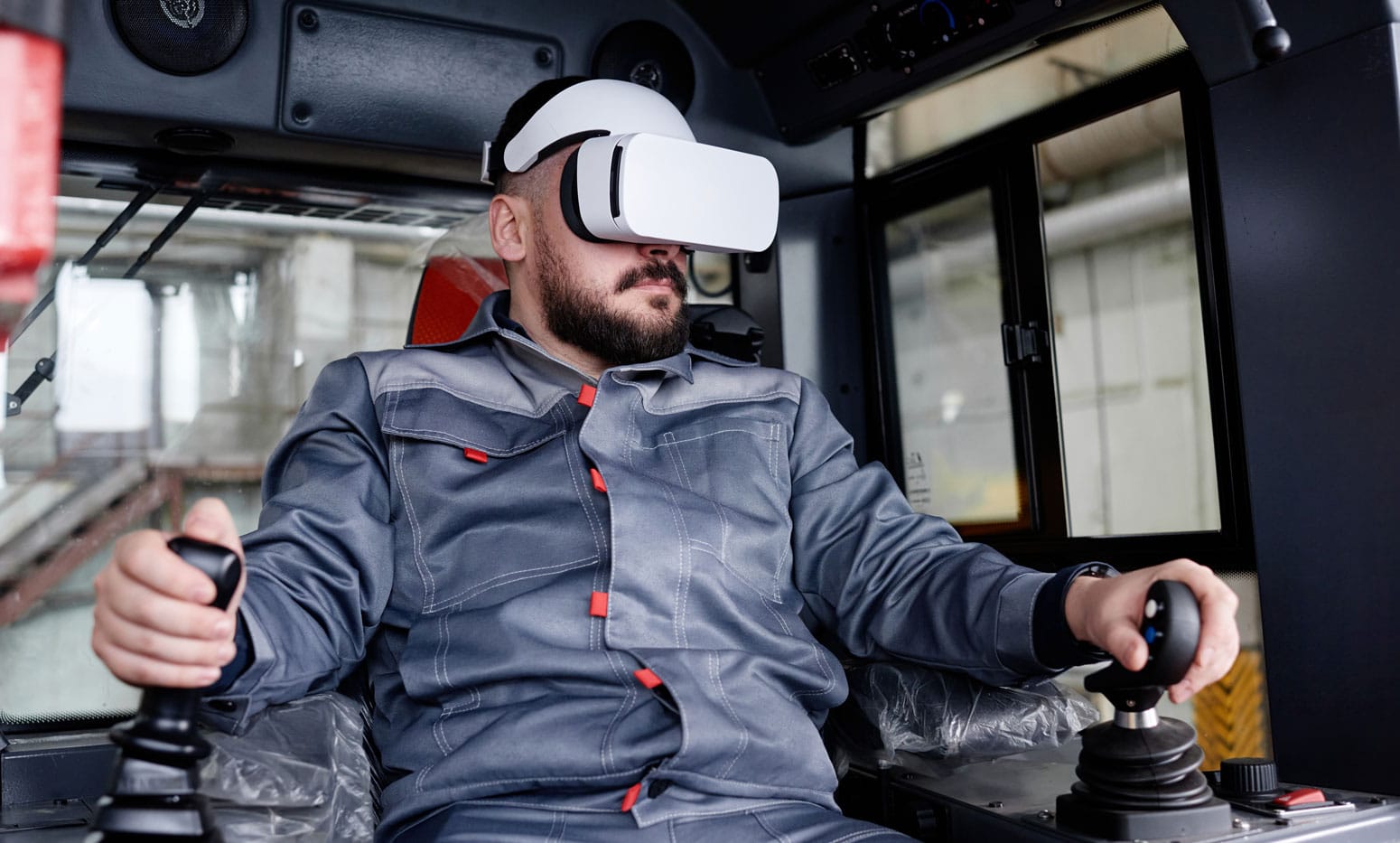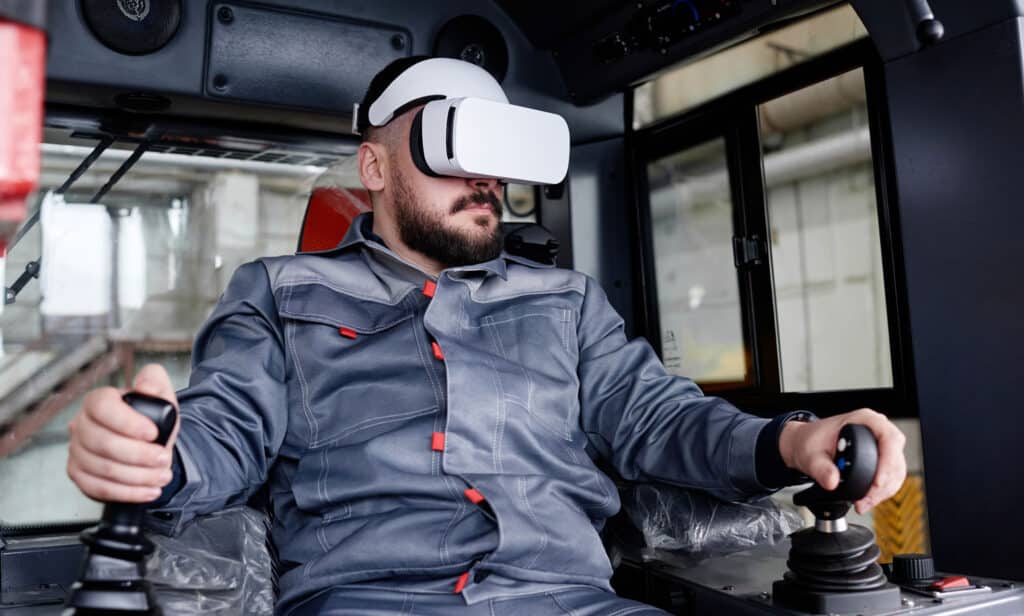 Safety First
While we might have brought this critical topic in at the outset, it's a good note to conclude on as it represents an underlying must of any construction site. Modern, IP-based video technology has quickly become a requirement to help improve site safety, giving Health and Safety Managers "eyes" on the crew and locale to ensure that safety equipment like hard hats and hearing protection are worn religiously and that hazardous areas aren't entered. This level of monitoring not only helps prevent injury and save lives, it also provides construction companies proof of compliance in highly regulated markets. Additionally, as the cost of building supplies, particularly things like copper have become the targets of thieves, a robust onsite IP video system, backed by ultra reliable 5G connectivity provides an extra advantage for site security.
As mentioned in the opener, we can now see many of these novel and established Use Cases in play at a timely project developed by Bosch Engineering in Holzkirchen Germany. There, Bosch has opened an open site for client companies to test out their tools and machineries using 5G connectivity. This is a major step forward in construction automation and is again evidence of non-public networks ability to dramatically increase productivity.
Some major Kudos here for Cumucore as we have delivered the Bosch Holzkirchen site's 5G SA Core running on the Supermicro SuperServer E300-9D-8CN8TP (Motherboard X11SDV-16C-TLN2F).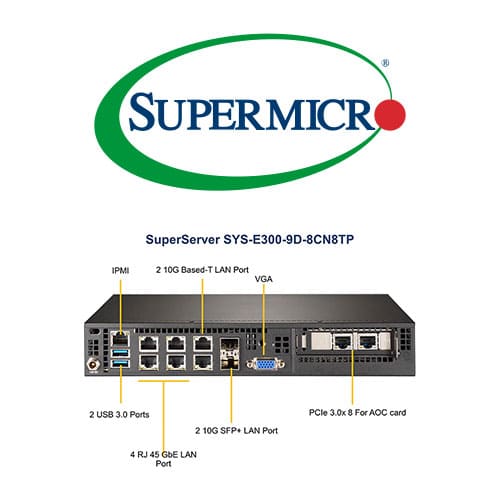 This server was particularly adapted for this type of deployment. It is a very performant Mini1U SuperServer designed for this type of application. Cumucore selected SuperMicro based on their large portfolio and their very reactive and support to meet our requirements.
To learn more about this novel deployment visit: https://www.bosch-presse.de/pressportal/de/en/bosch-engineering-setting-the-course-for-automated-construction-site-with-5g-campus-network-247680.html